November 2018 Summary:
Subscription Cortex - Buy Again Stage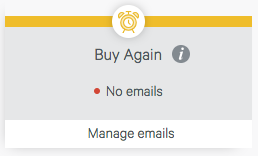 Sometimes you have add on and other one time purchase items that go with your subscription box. Sometimes these items wear out or get consumed and need to be repurchased (think the shaving cream with subscription razors). Buy Again is designed to drive repeat purchases of the same product based on the expected repeat purchase rate. For details please see this article.