ReSci is happy to announce our first version of draft mode will be released on Tuesday, Oct 30th 2018. Previous note available here.
What's included in v1?
The two major changes will be:
Save functionality, more flexibility in navigation, and more logical alerts
Scheduling functionality has been completely moved to the last step of the process
On the email builder screen, you will now see a "save" button:

The save button will simply save any changes that have been made. It will NOT start sending the email.
The "send test" button will also be permanently available on this screen. However, you must have saved the email at least once for it to be enabled. The system will also not allow a test send if you have any invalid fields so ensure you have filled in fields like stage, email name, and subject line before getting to the editor.
If you have unsaved changes when trying to test send, we will alert you to save your changes first, or continue with your test send as is:
NOTE: if you choose to send test without saving your changes, the system will send YOUR LAST SAVED VERSION of your email.
Continuing from this screen will bring you to the summary screen. You will notice the "save" button, along with some new options in the "Select action" dropdown:
The save button will work the same as in the previous screen, it will save any changes you have, but will NOT start sending the email. 
If you select any of the action buttons, but you have unsaved changes, you will see this alert: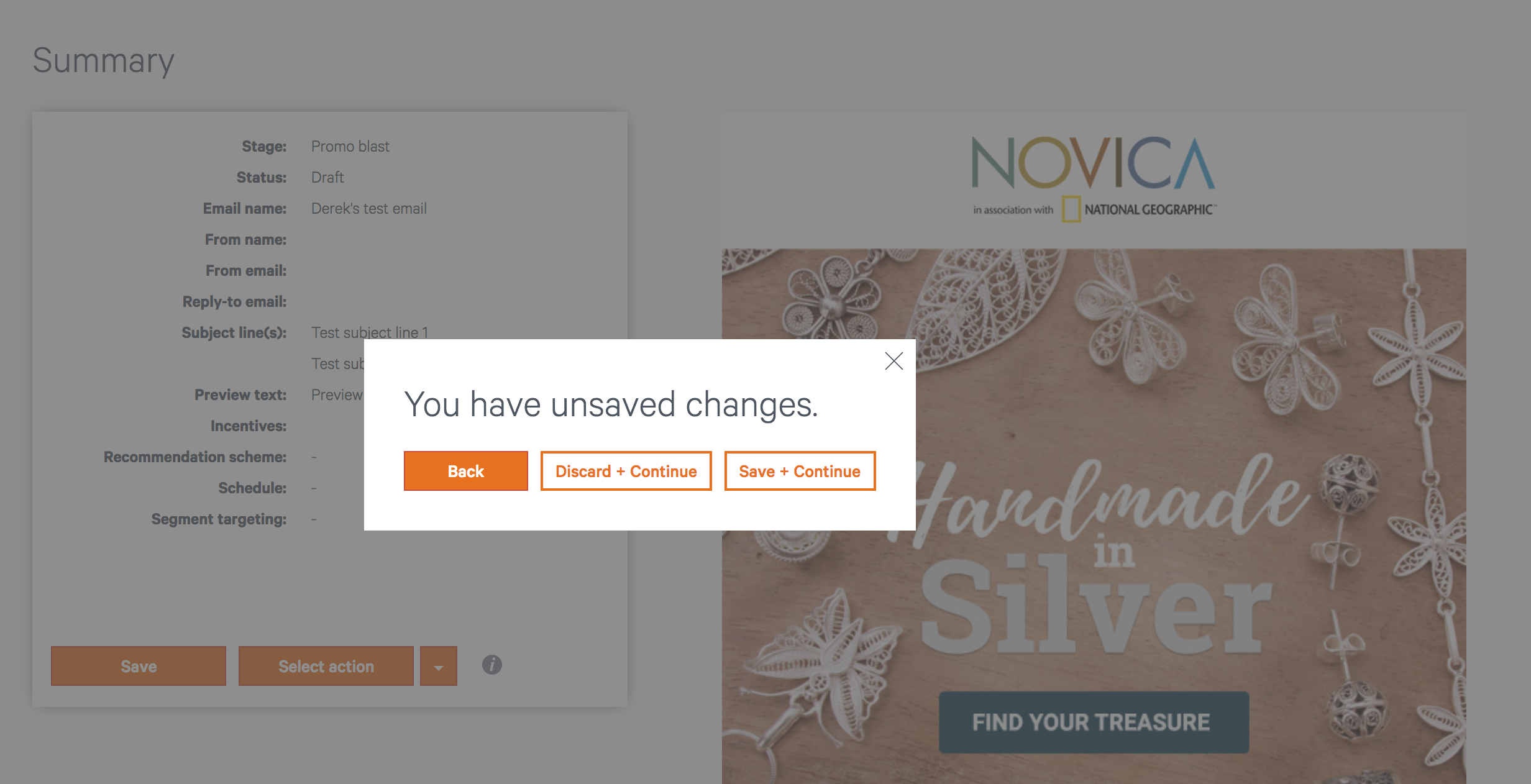 You can go "back" and just return to working on the current screen. "Save + Continue" will save all your changes and proceed to the selected action. "Discard + Continue" will DISCARD all your changes since your last save, and proceed to the selected action. Please be careful using "Discard + Continue".
You will also be prompted to fix any invalid fields or general HTML errors before continuing.
The actions will work as follows:
Continue to scheduling: if the stage has scheduling (Promo Blast, Smart Blast, Ready to buy, and Needs nurturing), you will be presented a pop-up to set your schedule:

From here, you can schedule your email and set it live. Note: you will see some slightly different scheduling options depending on what stage it is.

Send ASAP: this will set the email live to start sending as soon as possible. You will be alerted one last time to confirm before it starts sending.
Send test: you can also send a final test send to yourself from here.
Back to editor: will take you back to the previous screen, the email editor. 
Back to list: will take you back to your email list.
Other notes: the scheduling option will no longer exist on step 3 of building the email (settings). The only way to schedule (or send an email ASAP), will be on the last step of the summary screen. 
If you attempt to edit a currently scheduled email:
We will now CLEAR your current schedule before you can go into edit mode.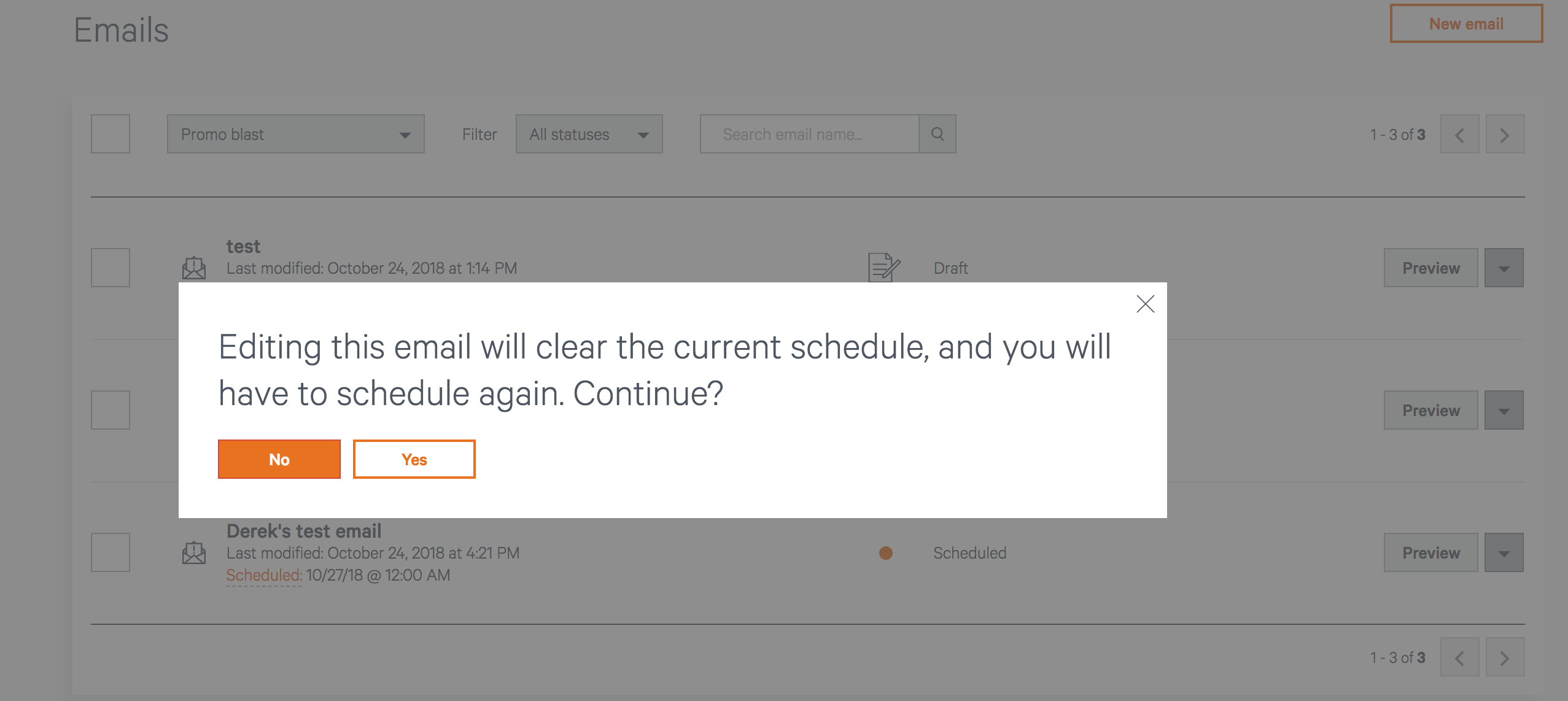 You will have to set the schedule again as the last step. This has been built to help prevent an edit from accidentally sending to any users before you are ready.
The major missing piece from v1 is the ability to save a partially created email (such as an email with a bunch of invalid fields or HTML). This will be coming as part of v2, which will be available in Q1 2019.
Please contact your client success manager or help@retentionscience.com with any questions.