Please click here if you are using the latest version of Cortex.
Now that you have Cortex, it's time to take advantage of your new tool and all its great features. Each stage gives Cortex more control over the messaging your users receive.
When you open up the Cortex dashboard you'll be greeted by the tiled Cortex display, ready for you to turn on new content!  The tiles will illuminate as you turn on templates for each stage.
Select any Cortex stage and click the stage tile to get started
When you open your Cortex stage you'll be greeted by a blank menu that will hold your stage's templates.  Click the "New Email" button to get started on a new template.
In the "new email" menu you can select a custom html builder where you can write or paste your own html code, you can select a starter drag and drop template, or you can build a new starter template.
Start by setting the basic template controls:
Set the template name
Set the first subject line
Add multiple subject lines, as Cortex will increase the sends of better performing lines.
Add a line of pre-header text (will appear with all subject lines)
Open Advanced Settings, if necessary

In Advanced Settings you can
Select or remove incentives from the template
Select a smart segment or list to target
Schedule your send (Smart Blast only)
Upload lists, create a new smart segment, or create a new incentive
Select a new recommendation scheme (where available)

When you are finished with your setup, save your template
Newly created templates will appear in a list of disabled templates.
You can see enable your templates with the on/off switch in the last column.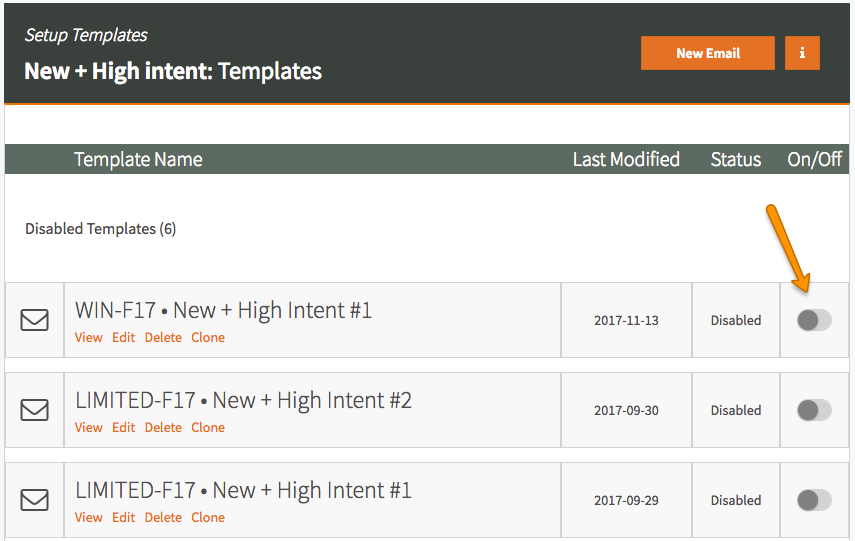 Once you have enabled templates, they will move to a separate section above the disabled templates.
Further Reading: