Please click here if you are using the latest version of Cortex.
This article is part of the Cortex Stage Guide.  For the Subscription Cortex Stage Guide click here.
♫ It's time to celebrate!! ♫  The Anniversary stage is the perfect way to celebrate your customers and thank them for being a part of your success. Reach out to your customers in a personalized manner to continue building on your current relationship, on the anniversary of when your relationship began! This stage is all about the customer, so focus on them. Utilize product recommendations, incentives and personalization (Think First Name Merge Tag) to continue building a strong relationship with your customers.
Who will receive Anniversary?
Every user in your database is eligible for Anniversary if they are subscribed to email marketing.
When will Anniversary send?
Anniversary will send every year on the anniversary of your user's account created on date.
How do Product Recs work for Anniversary?
Product recommendations for Anniversary will be based on the data that has been collected and analyzed for each individual's purchase history and browsing behavior, the behavior of similar customers, the popularity of items in the catalog, and more.  This allows Cortex to predict the preferences of each individual and target them with the best recommendations.
You can learn more about adding dynamic product recommendations to your Anniversary emails here.
You can learn more about Anniversary product recommendations here.
Greet your customer personally, make them feel appreciated
Reinforce your brand image and key value proposition
Use a minimum of 3 dynamic recommendations per template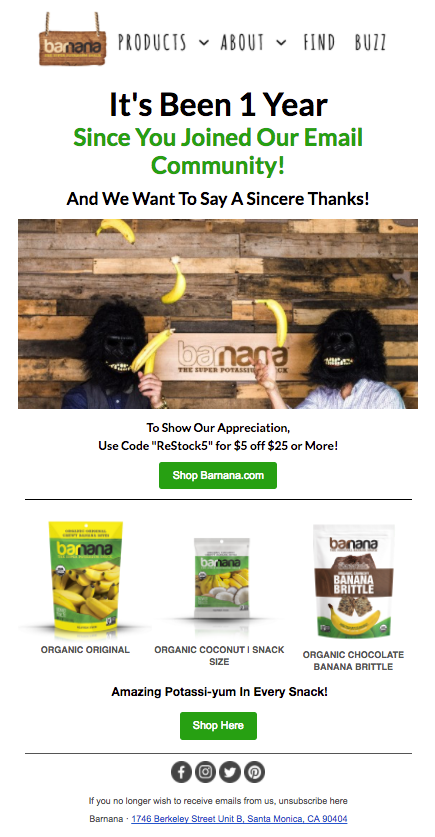 Setting up your Anniversary email:
1. Click on the Anniversary stage.
2. Click on "New Email"
3. Choose the type of "New Email" --> Custom HTML or Drag and Drop Template Builder.
4. Whether you select the Custom HTML version or the Drag and Drop Template Builder, you will fill in the following sections:
Template Name = name your template.
Subject lines = add the subject lines you would like to be automatically split tested.
Preview Text = add the preview text that you want included in this email. More info here. 
Optional sections include:
From email name and address = who the email says it is coming from.
Reply To email name and address = who the email gets forwarded to when the user clicks reply.
**These are optional because you have already setup a default From and Reply To email address during onboarding. If you want specific emails to have different From or Reply To names/email addresses, you would update it here at the template level.
Advanced Settings: 

Incentives = If you wish to include dynamic incentives in your Welcome email, you would pull the eligible incentives from the advanced settings screen. More info on including incentives in emails here. 
Optional sections include:
Targeted Segment = is there a particular segment you want this email template to go to? If so, select that segment from the drop down. More info here. 
Recommendation Scheme Selector = The recommendation scheme selector is an advanced tool for marketers looking to test a specific hypothesis in their lifecycle marketing strategy.  It allows you to limit product recommendations in your emails to predetermined rules as an alternative to Cortex's default optimized recommendation schemes. More info here. 
5. Select SAVE when finished with your email template.
6. Make sure to always send tests of your email before enabling. More info here on test sends before enabling. 
7. When you are ready to enable the stage, after saving, select "Back to List" to go to the stage's main page.
8. To enable the stage you will flip the toggle to "on".
  Template OFF
 Template ON
9. To check the reporting on your new template, go to Insights --> Artificial Intelligence Stats --> Trend Details.