Legacy Cortex users, please visit the Legacy Cortex section here.
Sending test emails is an important part of setting up an email marketing campaign. This article will walk you through the test send mechanisms in place for Cortex emails.
Testing Within Cortex
In your Cortex Admin page, select the stage that contains the email you would like to test send. Then click on the dropdown for the desired email and then click "Send test".

A test send can also be sent while editing an email by selecting "Send test".
When you click the "Send test" button you'll see the test send menu, which allows you to choose either a quick or realistic test send.
Quick Test Sends
Quick test sends provide a rough, but accurate view of the individual emails you create in Cortex. Product recommendation merge tags are not populated intelligently, and other merge tags are filled with default attributes. This will provide an accurate view of your email layout and will allow you to test formatting, display, and link structuring.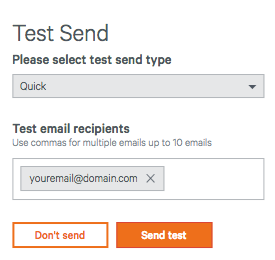 Keep in mind:if you have product recs in the email, the recs that will display will be the first items listed in your items feed. If you see recs that are set to inactive or not available, don't fret! Those are just placeholder images for your testing and will not show up in the actual sends once pushed live!
Realistic Test Sends
Realistic test sends provide an accurate look into the real emails your users are receiving. From all your eligible users an example recipient will be chosen, and the merge tags will be populated as if that user is receiving that email. Realistic test sends will contain the sampled user's email address in the subject line, and will be accompanied by a realistic test send report summarizing the sampled users and reporting any error in the process.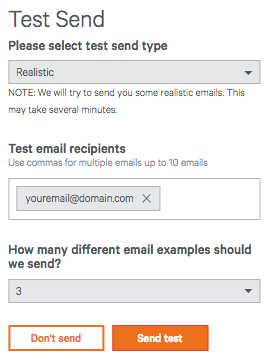 Always check your Test Send Reports.
Note: The realistic test send function requires product merge tags to work correctly. If your template will not render a realistic test send you may need to add some merge tags like {{rs_rn1}}