Legacy Cortex users, please visit the Legacy Cortex section here. 
The drag and drop email template builder allows you to easily design elegant and responsive email templates. The drag and drop template builder can be accessed through each of the Cortex stages or within Data Management under Templates or Starter Templates.
Template Builder Basics
Template Setup
Stage: The stage that this email will appear under
Email name: The name of your email.
From name, From email, Reply-to email address (Optional): Update if you want to send emails from an address different than what was set up during onboarding.
Email subject lines: Add multiple subject lines for testing.
Preview text: Add the text you wish to display before the subject line when viewed in the inbox. More info here.
Incentives: Select the incentives you wish to populate or split test in the email. More info here.
Recommendation Scheme (Optional): If you want to select a specific recommendation scheme for your email, choose the scheme from the drop down. More info here.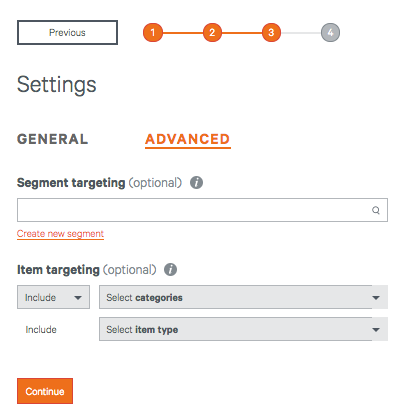 Segment targeting (Optional): Select a segment from the drop down if you want a specific cohort to receive this email.
 Item targeting (Optional): Select a specific category or item type to include or exclude from the product recommendations in this email. 
Select email type: Select how the email will be constructed. Selecting HTML Editor will allow you to build the email using HTML code. The other three selections will use the in-app Template Builder tool.
Please note:
Each Cortex stage has different logic and backend settings so all "Advanced Settings" will differ per template. Reference the Cortex section here for specific details on each stage.
Editing the Email
Body
General settings for the message are found in Body.
They are inherited by Structure and Content blocks. For example, the font family set in the message settings is then used everywhere in your message, except where you use a custom setting.
This is very useful to build a coherent message very quickly.
Structure
Inserting different types of rows into the message is done in Structure. 
Rows are structural units that define the horizontal composition of a section of the message by using columns. You can use from one to four columns.
Using more than one column allows you to put different content elements side by side.
You can add to your messages all the structural elements you need, regardless of the template you selected when you started.
Every row has its own settings, which gives you the kind of flexibility that before was only achieved with hand-coded email.
For example, you can select a background color for the entire row, only the message area, or a specific column within it.
Content
This section includes a series of tiles that represent the different kinds of content you can use in your message. More will become available in the future.
To use them, just drag one inside a column, it will auto-adjust to the column width.
Every content block has it owns settings, such as granular control on padding.
Generating an Email Within a Cortex Stage
1. Select the stage you wish to create an email for
2. Select "New Email" and choose "Create new"
3. Fill in the required fields and select "Save"
4. Choose a Drag and Drop template
5. Use the template as a guide for your email or drag in new structures and then content blocks into those structures to form your email
6. Make sure to press "Save" throughout your email creation so you don't lose any work
7. When finished, use the "Preview" or "Send Test" buttons to see how your email renders on devices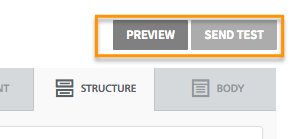 8. Press "Continue" when you are finished with your email and select "Save Email"

Generating an email within Starter Templates
1. Visit this page for step by step instructions.
Important Reminders
Make sure to include your company's physical mailing address in the footer of your email.
Make sure the email has the embedded unsubscribe link in the footer. More info here.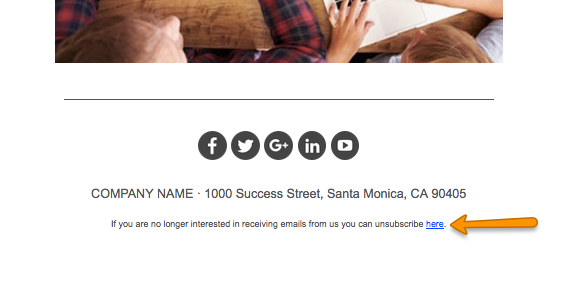 Include "Alternate Text" for your images. More info here.
Additional Resources