The drag and drop email template builder allows you to easily design elegant and responsive email templates. This article will show you how to quickly start a new email through the Cortex emails screen or within Data Management under Starter Templates.
For instructions building and editing in the drag-and-drop, click here.
Generating an Email from The Emails Screen
From the Emails screen, select the "New Email" option:
You will then be prompted for the Stage and Email Name:
If you are creating an email from within a specific stage, the stage will be pre-selected.
TIP: Make sure to name your emails something descriptive so you can easily find them in reporting later, such as "Valentine's promotion 2/14/18 - Facebook users - California".
As soon as this form is completed and you hit "Continue", your email will be saved as a draft, and you will then be taken to step 1 of your email settings, where you can see the status on the bottom as "Saved (draft)":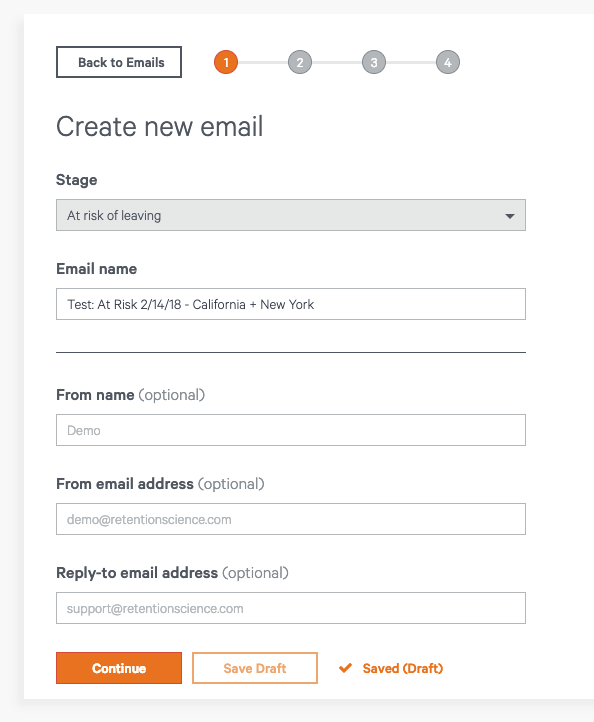 From name, From email, Reply-to email address (Optional): Update if you want to send emails from an address different than your site's default.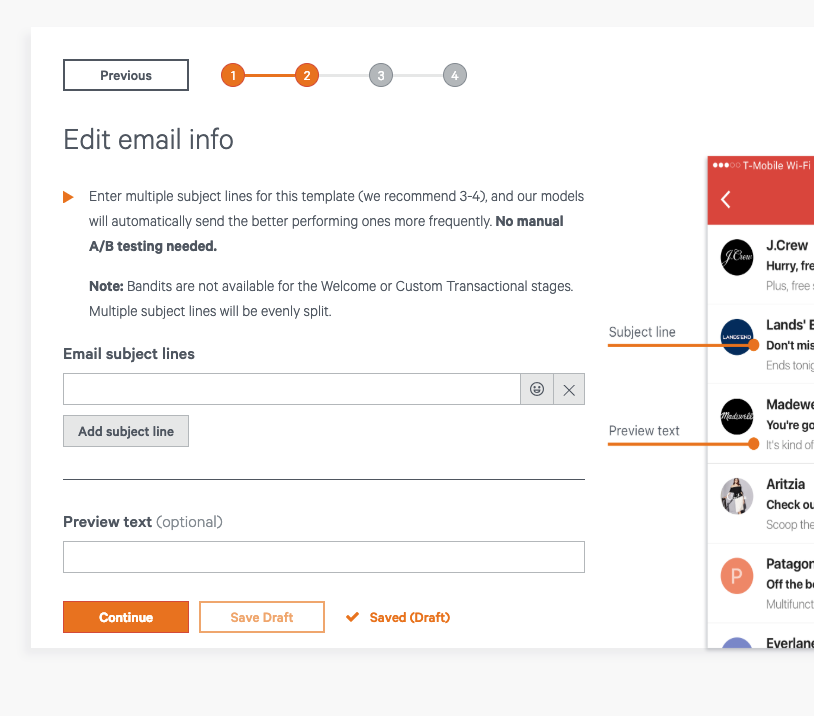 Email subject lines: Add multiple subject lines to allow our AI to optimize your open rates.
Preview text: Add the text you wish to display before the subject line when viewed in the inbox. More info here.
Incentives: Select the incentives you wish to populate or split test in the email. More info here.
Recommendation Scheme (Optional): If you want to select a specific recommendation scheme for your email, choose the scheme from the drop down. More info here.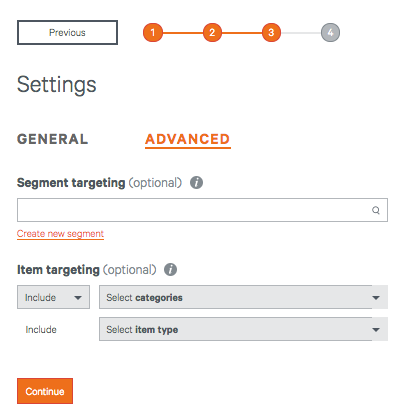 Segment targeting (Optional): Select a segment from the drop down if you want a specific cohort to receive this email.
 Item targeting (Optional): Select a specific category or item type to include or exclude from the product recommendations in this email. 
Select email type: Select how the email will be constructed. Selecting HTML Editor will allow you to build the email using HTML code. The other three selections will use the in-app Template Builder tool.
Please note:
Each Cortex stage has different logic and settings– reference the Cortex stage guide here for specific details on each stage's setup.
Generating an email within Starter Templates
1. Visit this page for step by step instructions.
Additional Resources