When thinking about product recommendations it's important to understand that some Cortex stages treat merge tags differently. Below you will find a guide for the New to Your Brand stage. The article discusses how recommendations are generated specifically for this stage. For information on product recommendations for other stages, click here.
Understanding Product Recommendations for New To Your Brand
This is the stage where you get to introduce a new customer to your brand. It's an opportunity to tell your story and connect with the customer. This email will send 24 hours after the user's initial sign up.
This is your first impression, make it a good one. Utilize the language and branding of this email to encourage engagement with your website. Welcome the new customer with open arms and show them what current customers love about your brand. A great way to do this is to include product recommendations. In this case, Cortex does not yet have enough information about this customer to recommend targeted items. Instead, Cortex uses intelligent Cold Start Recommendations.
New To Your Brand Recommended Products
Cortex uses a flexible and intelligent recommendation scheme for New To Your Brand that is actually three recommendation schemes combined.  For new users who browse the web store after signing up, product recommendations are targeted based on each individual's browsing behavior, the purchase behavior of similar customers, the popularity of items in the catalog, and more. Cortex uses this data to predict the preferences of each individual and target them with the best recommendations.  For new users with no browsing history Cortex uses Intelligent Cold Start Recommendations.  Using predicted gender and the location of the user when they sign up Cortex is able to target recommendations based on the purchase behavior of customers most similar to the new users.  If information is unable to be collected on the new user at signup a broader recommendation scheme based on the most popular products will be used.
New To Your Brand with Product Rec Merge Tags (Left) New To Your Brand with Product Recs Populated by Cortex (Right)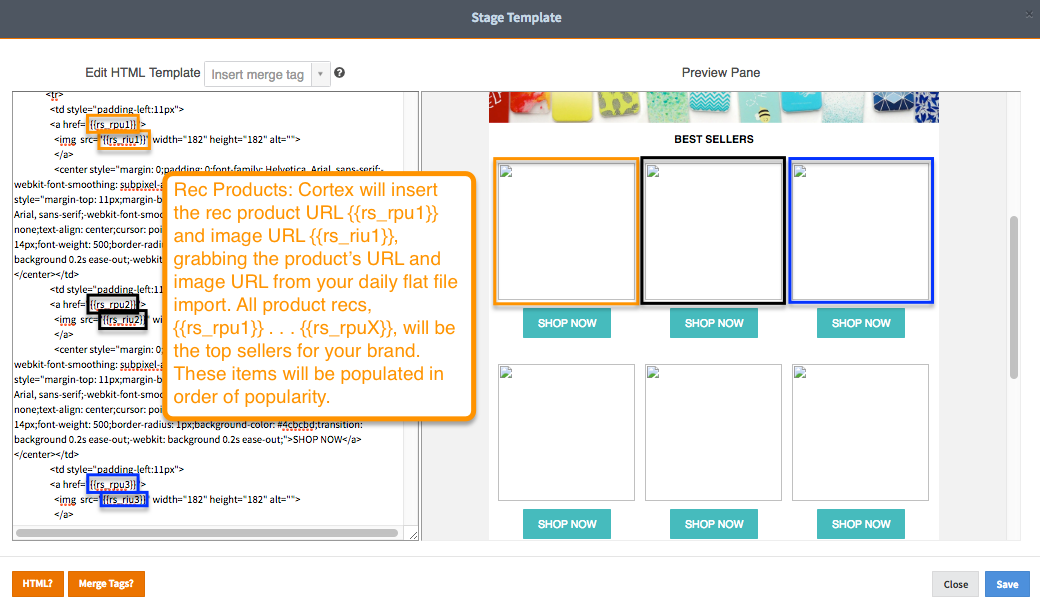 Now, powered by Cortex, your templates are ready to introduce your newly acquired customers into a positive relationship with your brand.  
For a step-by-step guide to adding merge tags to your HTML, read this article.
For a list of merge tags that are possible, read this article.