Legacy Cortex users, please visit the Legacy Cortex section here. 
How To Create Segments
1. Data Management --> Smart Segments

2. Select Create New
3. Name your segment and set the criteria you wish to filter
A full list of filters and their definitions can be found here. 
4. Click "Create"
Important! Make sure when inputting numbers and words that you do not include any extra blank space characters, the filters check for the exact input and will not find results for anything that doesn't match. "State is exactly CA" will return people in California, "State is exactly CA " will return no one!
Need more information? Learn more about building segments in these articles:  
How To Apply Segments To Sends
Open the "Email settings" menu for the template you want to segment

Navigate to the "ADVANCED" tab.
Select your segment or list from the drop down menu.  You can search by typing into the bar at the top of the drop down menu.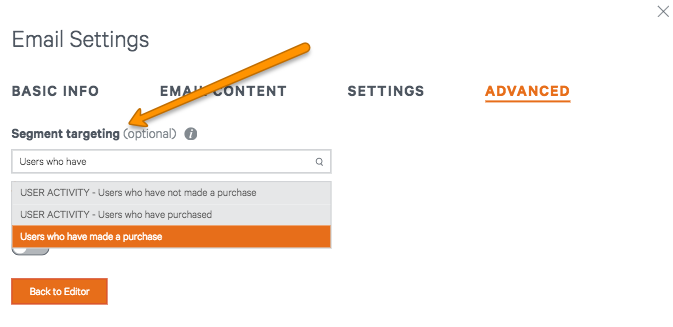 You can also create new segments or upload a list by clicking the links below the "Segment targeting" field.