Basics of IP Warming
Warming up an IP address means that you start sending low volumes of email on your dedicated IP (does not apply to shared IPs) and then systematically increase your email volume over a period of time. This gives ISPs the opportunity to recognize, identify, and evaluate your sending practices. During this period ISPs evaluate your sending behavior and content to see how healthy your list is and how committed you are to deploying relevant information to responsive users. They even look at things like how many users opened your email, scrolled to the bottom, or moved your message to other folders.
The goal of warming up is to ramp up your sending volume to your anticipated "normal" levels, allowing the ISPs to gain trust in your sending behavior. You want the ISPs to learn your usual sending volumes so they can identify any suspicious behavior (i.e. spammers are known to infiltrate inboxes with malicious email by frequently switching IPs to circumvent ISP security checkpoints).
For example, both Hotmail and Yahoo! limit the daily sending allowance for all senders. They assess your reputation to determine your normal volume and then once that volume is exceeded, they block the "excess" email. However, as they get to know you, they will increase your daily limits. It's all about establishing patterns and a circle of trust.
Who handles this with RS Send?
Warming up your IP will be a team effort between ReSci and your email marketing team.  We will work with your team to target the most valuable customers with the most effective messaging to ensure maximum value from your campaigns as we ramp up your sends to full volume.  Our goal is to maximize engagement during this period so your IP holds the highest reputation possible at the end of the warmup period.
Read more from SendGrid's Documentation
Suggested IP Warming Schedule with ReSci: Step-by step guide to warm your new IP

Welcome to your new IP address! Since you are new to the IP address we need to make sure we warm your IP,  allowing you to gradually establish a good sender reputation. The process for warming your new IP address is pretty simple: gradually increase the volume of mail sent according to a predetermined schedule. This will help establish a reputation with ISP's (Internet Service Providers) as a legitimate email sender.
Here are the steps to warm your IP via Smart Blast - come up with a single email that can go out to different volumes of users over a consistent time period:
1.Look at your total list size. The goal is to gradually hit your entire list - slowly increasing volume and keeping the sends consistent.  The warmup schedule below will walk you through day-by-day send volume to reach your full target audience.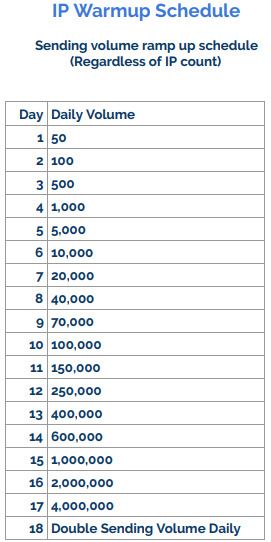 2.Create segments of your users starting with a low number and gradually increasing each segment until you have included your entire list.
Below you will find some example segments.  Use these as a reference
a.
b.
c.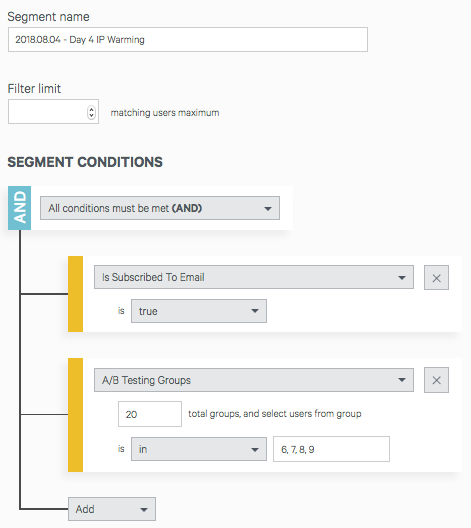 d.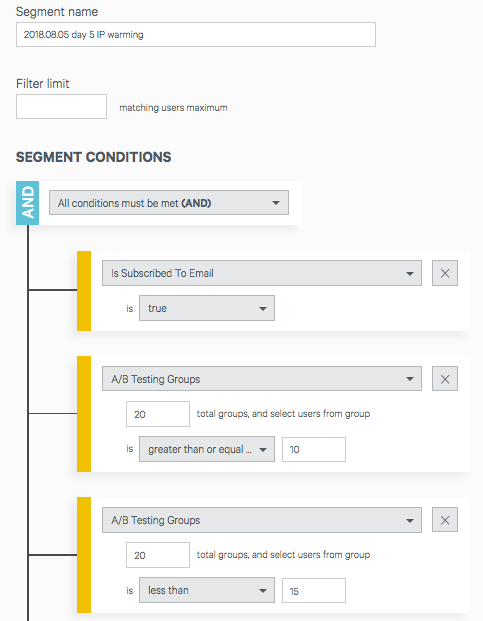 e.
3. Next up is to create an email in Smart Blast or Promotional Blast that will go out to each of these segments over a set period of time. Here is an example of an email to send to your users - think about content that will have a high open and click through rate to build up your email reputation: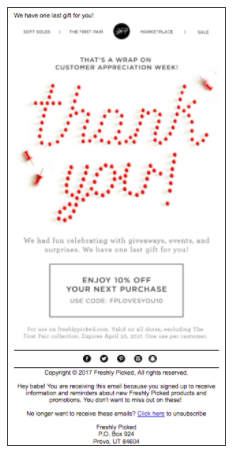 4.Once you have added your email template, it's time to setup each blast. Here is an example of how to set this up in Smart Blast:
a.Select Smart Blast.
b.Clone the email you created for this IP warming "x" number of times for the duration of the send.
c.For each cloned email you will set the scheduled day it is going out and the segment it will be going out to.
Example of the scheduled day:
Example of the corresponding segment:
Complete for the rest of the sends. For this example, it is 6 sends to 6 segments over 6 days.
d.Save.
e.All sends will be turned "on" and look like this, ready to go out over the 6 day period.
Please note:
You can begin warming your IP by first enabling high engaging Cortex stages like Welcome, New To Your Brand, Cart Abandon or Followup. Since the goal is to gradually increase volume of mail from your new IP, you could begin the warming with those stages and then send to your entire list via the Smart Blast IP warming schedule to complete the process.