Now that you have Cortex, it's time to take advantage of your new tool and all its great features. Each stage gives Cortex more control over the messaging your users receive.
When you open up the Cortex dashboard and go to your campaign section you'll be greeted by the tiled Cortex display, ready for you to turn on new content! The tiles will illuminate as you turn on templates for each stage.
Select any Cortex stage and click the stage tile to get started. When you open your Cortex stage you'll be greeted by a menu that will hold your stage's templates.
Click the New Email button to get started on a new template.
Enter an email name and click continue.
TIP: Make sure to name your emails something descriptive so you can easily find them in reporting later, such as "Valentine's promotion 2/14/19 - Facebook users - California".
Enter From name, From email, and Reply-to email address. Click Save Draft, Continue.
TIP: Update only if you want to send emails from an address different than what was set up during onboarding.
Enter Email subject line and Preview text (optional).
Email subject lines: Add multiple subject lines for testing.
Preview text (optional): Add the text you wish to display before the subject line when viewed in the inbox. More info here.
Add Incentives, select a recommendation scheme, or target a segment or specific category.
Incentives (optional): Select the incentives you wish to populate or split test in the email. More info here.
Recommendation Scheme (optional): If you want to select a specific recommendation scheme for your email, choose the scheme from the drop-down. More info here.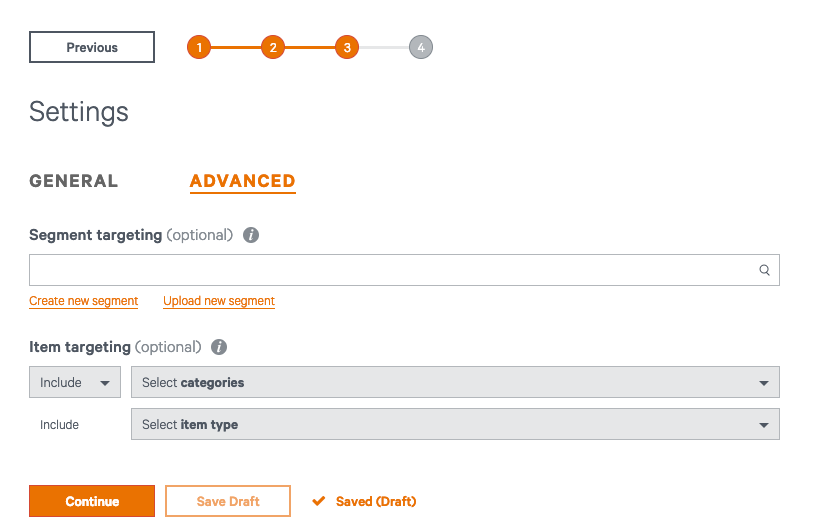 Segment targeting (optional): Select a segment from the drop-down if you want a specific cohort to receive this email.
Item targeting (optional): Select a specific category or item type to include or exclude from the product recommendations in this email.
Note: This selection determines how the email template will be constructed. Selecting HTML Editor will allow you to build the email using HTML code. The other three selections will use the in-app Template Builder tool.
Click Continue to Editor to format and build your email.
TIP: Be sure to click Save Draft often to retain all of your updates.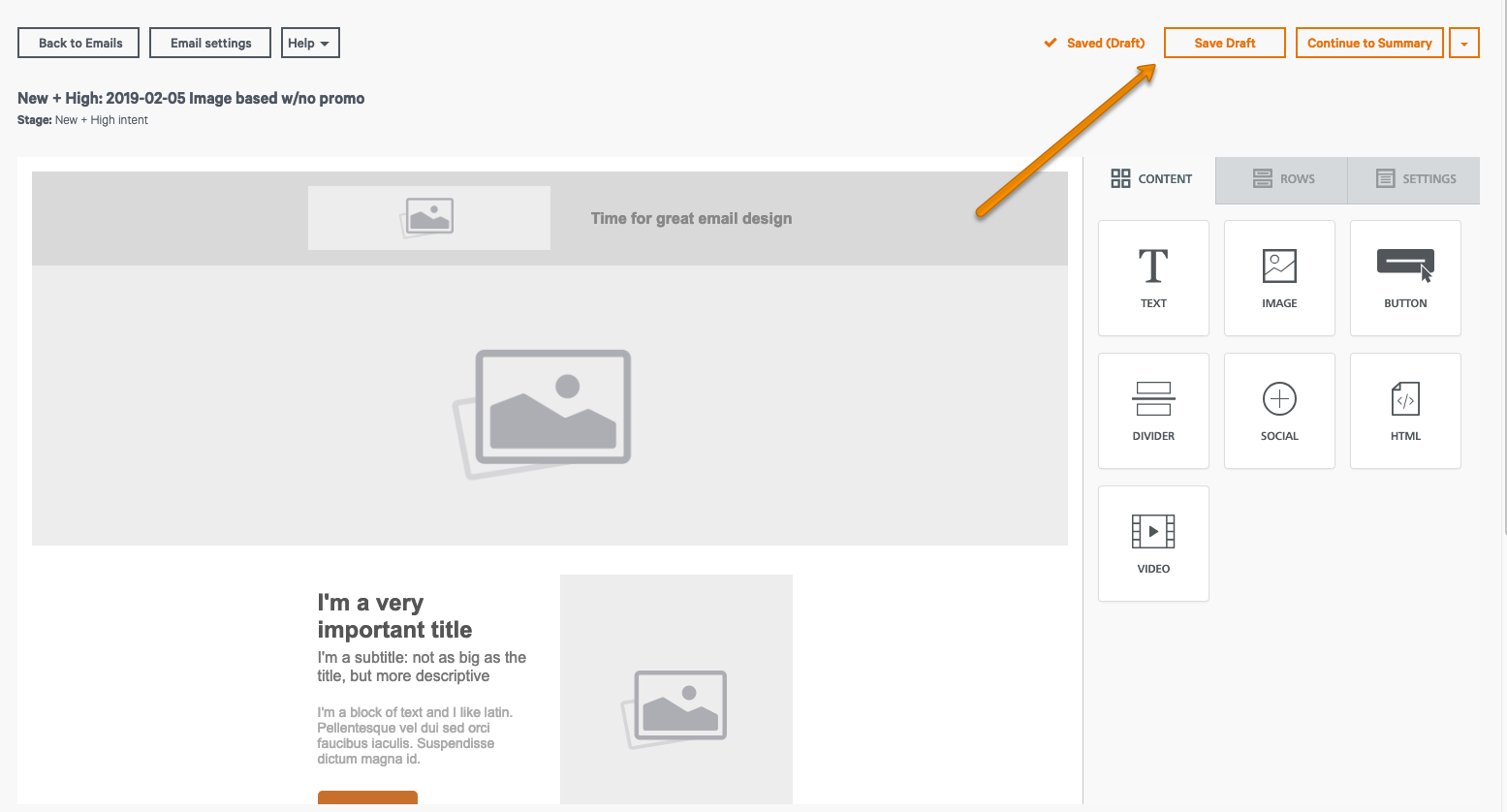 Once completed, you can preview your email, send a test email, or create a plain text version of your email by going to the drop-down menu in the top right-hand corner. In the Drag and Drop builder only, you can export the HTML for your own purposes.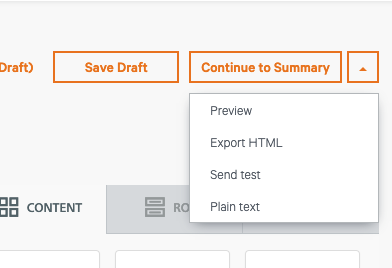 Click Continue to Summary to go to the final Summary screen.
On the Summary screen, you can confirm all your settings and proceed to activate your email.
The email can also be activated from the Emails page.
Further Reading: