Products get used up and wear out. It only makes sense to send a reminder to your customers when it's time for them to get a refill, replacement, or just another version of the same product in a different color! Buy Again is designed to drive repeat purchases of the same product based on the expected repeat purchase rate. This is the perfect time to recommend a "subscribe" option if your store has one available!
Who will receive Buy Again?
Customers who have purchased any of your items with a replenishment interval set up will receive a Buy Again email.
When will Buy Again send?

Buy Again is controlled by an item's replenishment interval, which is the number of days after a purchase when a user is expected to re-purchase.
An item's replenishment interval can be set in three ways:
Explicit - Your store can set the replenishment interval for specific items, providing in-depth control for marketers. To learn more about setting the replenishment interval click here.
Predicted (individual) - If a user has displayed re-purchasing behavior, Cortex will set replenishment intervals specific to each user's shopping habits.
Predicted (average) - Without any explicit data, Cortex will interpret an average re-purchasing intervals for items in your store. This average time will be used to control Buy Again sends.
Important! Explicit replenish intervals will override any predicted interval.
How do Product Recs work for Buy Again?
Buy Again emails will only show previously purchased items according to each item's replenishment interval.
You can learn more about adding product recommendations to your Buy Again emails here.
Best practices:
Create 2-4 templates with 3-5 subject lines so Cortex can optimize your open and click rate
Use targeted language that shows appreciation for the customer and calls them towards another purchase
Include a strong Call To Action
Recommendations:
Use Smart Segments to target one-time and repeat purchasers differently
Offer a very small or no discount
Provide smaller discounts or no discount for repeat purchasers to avoid diminishing the value reputation of your products at full price
Include strong branding and language that encourages regular use of your products
Example: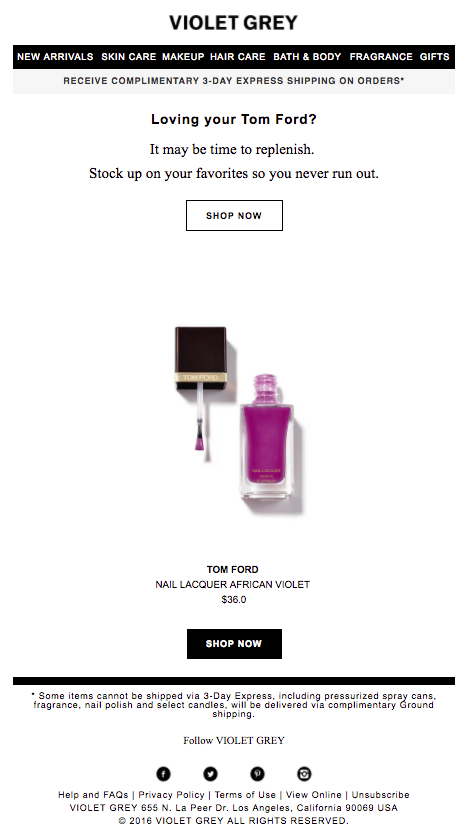 Setting up your Buy Again email:
1. You will see the Buy Again stage tile in your account.

2. Click on the Buy Again stage and select "New Email"

3. Fill in the required email setting fields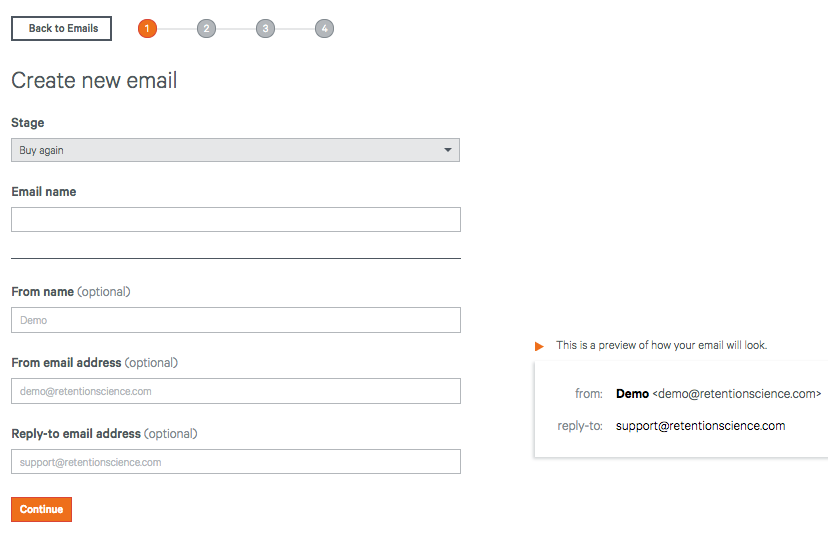 Stage: The stage that this email will appear under
Email name: The name of your email.
From name, From email, Reply-to email address (optional): Update if you want to send emails from an address different than what was set up during onboarding.
Email subject lines: Add multiple subject lines for testing.
Preview text (optional): Add the text you wish to display before the subject line when viewed in the inbox. More info here.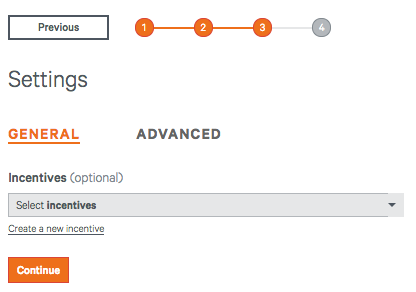 Incentives (optional): Select the incentives you wish to populate or split test in the email. More info here.
Segment targeting (optional): Select a segment from the drop down if you want a specific cohort to receive this email.
Send only once (optional): Enable this setting if you would like users to receive this email a single time.
Select email type: Select how the email will be constructed. Selecting HTML Editor will allow you to build the email using HTML code. The other three selections will use the in-app Template Builder tool.
4. Click "Continue to Editor" to format and build your email.
5. After editing the email click "Continue" and then click "Save Email"

6. Make sure to always send tests of your email before enabling. More info here on test sends before enabling.
7. To enable the email, click on the drop down and select "Activate".

8. Reporting on your new template is found in Insights --> Artificial Intelligence Stats --> Trend Details.