Step One
Download and install Cyberduck or another FTP client

https://cyberduck.en.softonic.com/mac 
https://cyberduck.en.softonic.com/windows 
Step Two
Bookmark your FTP Login
Click on the "create new bookmark" button




Fill in your bookmark details


a. Change drop down to "SFTP (SSH File Transfer Protocol)
         b. Change the Server: from "ftp" to "sftp"
         c. Change the Port: to 22
         d. Email help@retentionscience.com or your CSM for your Username and Password
         e. Check the box "Add to Keychain"
     3. Click "Connect"
Step Three
Format your file for FTP import
Step Four
Upload your file by either dragging them into the upload queue or selecting "upload"
Ensure that your files are sitting in the "uploads" folder and are not uncategorized, or in archive, qa, or exports.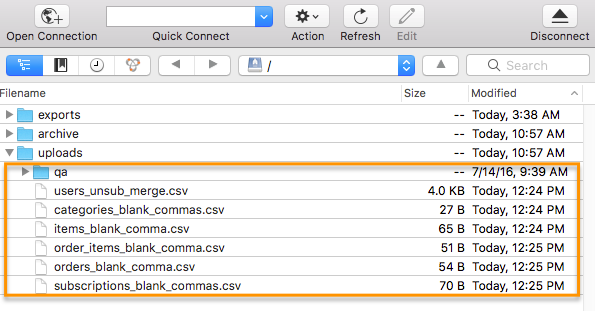 Step Five:
Wait for "upload was processed successfully" email
Refresh to see if file has been picked up (it will disappear, files are picked up approx. once per hour)