Smart Blasts are the new way to reach everyone on your mailing list, optimized with the message most likely to convert. When you launch a Smart Blast, Cortex calculates the likelihood of conversion for the different stages and targets customers with the message most likely to convert. It is the perfect home for your weekly newsletter, giveaways, or promotional emails that are time sensitive but not delivery-critical.
Smart Blast Setup
1. Select Cortex Admin from the menu bar.
2. Select Smart Blast.
3. Select New Email.
4. Choose Custom HTML or one of the drag and drop templates.
5. Name your template.
Pro Tip: 

Utilize distinct and recognizable names to help differentiate experiments from one another. (20160831 New Product Promo Blast Group A)
6. Add one or more subject line.
7. Set the Start Time and Number of Days. When setting the Start Time, choose the date you wish for it to begin and note that the email will run in 24 hours increments. Here is an example of an email that will begin at 12:00 PM on April 9, 2018 through 11:59am on April 10, 2018: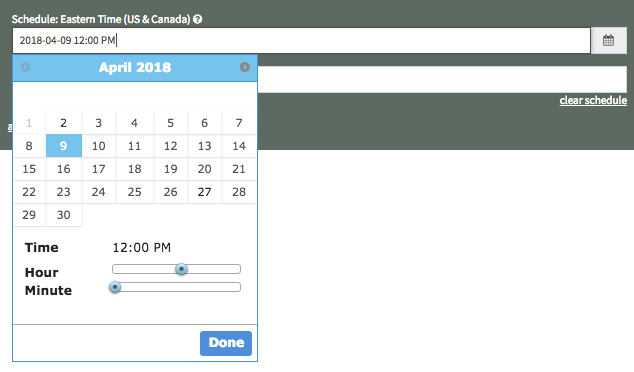 Pro Tip:

Set your Smart Blast to run for 2 days. Number of Days is most commonly set to 1 day - this means the email will be sent over the course of a 24 hour period. Giving Cortex two or three days to send the message allows it reach more users, who received other messaging on the first day.
The graph below shows the distribution of sends over a 2-day period for a typical smart blast


8. Select Advanced Setting to select your Smart Segment from the drop down.
9. OPTIONAL: if your email contains incentive merge tags, select the incentives from the left box you wish to include in the email. For this example, the email will only populate one incentive for a percentage off titled "TFP Size Up - 20%". If you want to use the incentive optimization feature, select two or more incentives to include and test in this email.
10. Add your email content via HTML or by using the drag and drop template builder.
11. Select Send Test to test your template before enabling.
12. Select Save when you are all finished. The email will be scheduled to go out at the designated Start Time.
Additional Resources