Please click here if you are using the legacy version of Cortex.
This article is part of the Cortex Stage Guide.  For the Subscription Cortex Stage Guide click here.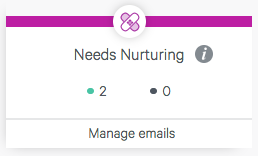 Needs Nurturing has the greatest reach of all standard lifecycle messaging.  When a user's engagement drops off and they no longer qualify for the other Cortex stages they are classified as someone who needs nurturing.  
Who will receive Needs Nurturing?
The users in Needs Nurturing generally fall into two categories: users who have not purchased but have moved through the welcome emails, and former customers who have reached their maximum window within Lifecycle Stages (At-Risk and Churned), and do not qualify for any additional stages or sends.
Warning! Because Needs Nurturing can reach so many dormant users it is important to practice responsible List Management, otherwise your brand risks harm to its sender reputation.
When will Needs Nurturing send?
Once a user becomes eligible for Needs Nurturing, emails will be sent to them according to their optimum send interval and best time to contact, until they become eligible for a different Cortex stage.
How do Product Recs work for Needs Nurturing?
Cortex uses a flexible and intelligent recommendation scheme for Needs Nurturing that is actually three recommendation schemes combined.  
For users with browsing or purchase history, product recommendations are targeted based on their behavior, the purchase behavior of similar customers, the popularity of items in the catalog, and more. Cortex uses this data to predict the preferences of each individual and target them with the best recommendations.  
For users with limited data available Cortex uses Intelligent Cold Start Recommendations.  Using predicted gender and the location of the user when they sign up Cortex is able to target recommendations based on the purchase behavior of customers most similar to the new users.
If information is unable to be collected on the new user at signup a broader recommendation scheme based on the most popular products will be used.
You can learn more about adding dynamic product recommendations to your Needs Nurturing emails here.
You can learn more about the Needs Nurturing product recommendations here.
Best practices:
Include filtering to limit over-sending from this stage
Have a large variety of templates in this stage since it is a high volume stage (at least 7-9 email templates).
Reinforce your brand's key value proposition
Include strong branding and multiple Calls To Action
Use a minimum of 3 dynamic recommendations per template
Remind the shopper of any standard incentive
(i.e. "free shipping on all purchases")
Recommendations:
Include reviews from customers, celebrities, or well known brands/publications
Include additional links to social media to increase engagement across multiple channels
Include fresh content from your blog to get users back on site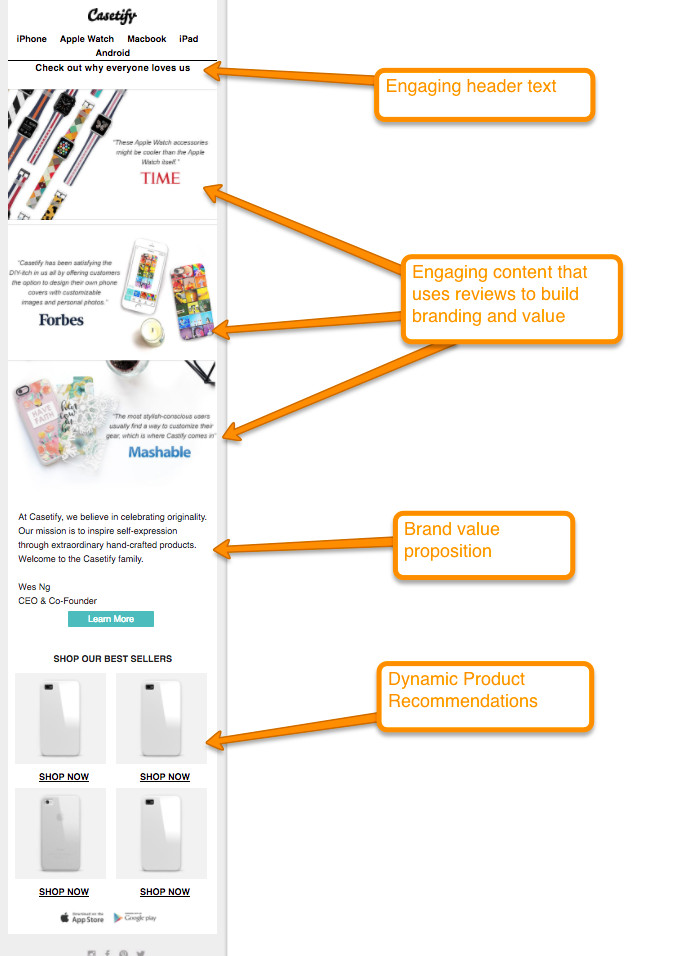 Setting up your Needs Nurturing emails:
1. You will see the Needs Nurturing stage tile in your account. 
2. Click on the Needs Nurturing stage and select "New Email"
 3. Fill in the required email setting fields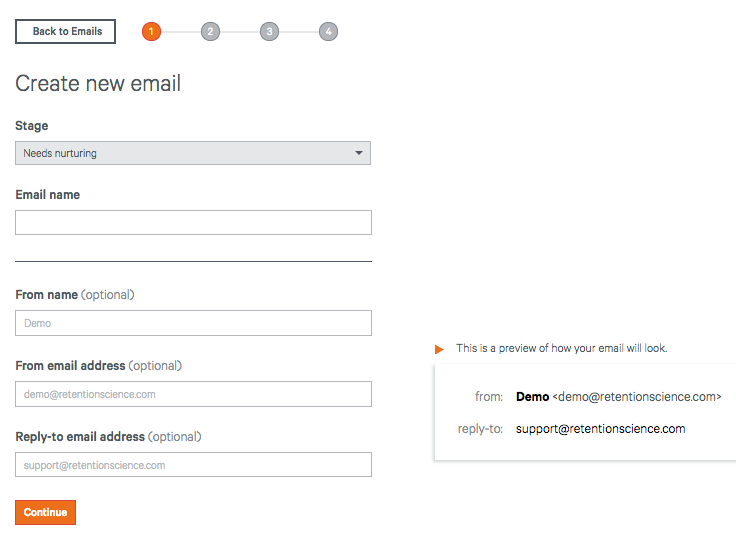 Stage: The stage that this email will appear under
Email name: The name of your email.
From name, From email, Reply-to email address (optional): Update if you want to send emails from an address different than what was set up during onboarding.  
Email subject lines: Add multiple subject lines for testing.
Preview text (optional): Add the text you wish to display before the subject line when viewed in the inbox. More info here. 
Incentives (optional): Select the incentives you wish to populate or split test in the email. More info here. 
Recommendation Scheme (optional): If you want to select a specific recommendation scheme for your email, choose the scheme from the drop down. More info here.
Schedule (optional): If you want the email to run only during a specific time period, you can set the time frame here. An example would be special Valentine's Day messaging two weeks prior to February 14.
Segment targeting (optional): Select a segment from the drop down if you want a specific cohort to receive this email.
Item targeting (optional): Select a specific category or item type to include or exclude from the product recommendations in this email. 
Send only once (optional): Enable this setting if you would like users to receive this email a single time. 
Select email type: Select how the email will be constructed. Selecting HTML Editor will allow you to build the email using HTML code. The other three selections will use the in-app Template Builder tool.
4. Click "Continue to Editor" to format and build your email.
5. After editing the email click "Continue" and then click "Save Email" 

6. Make sure to always send tests of your email before enabling. More info here on test sends before enabling. 
7. To enable the email, click on the drop down and select "Activate".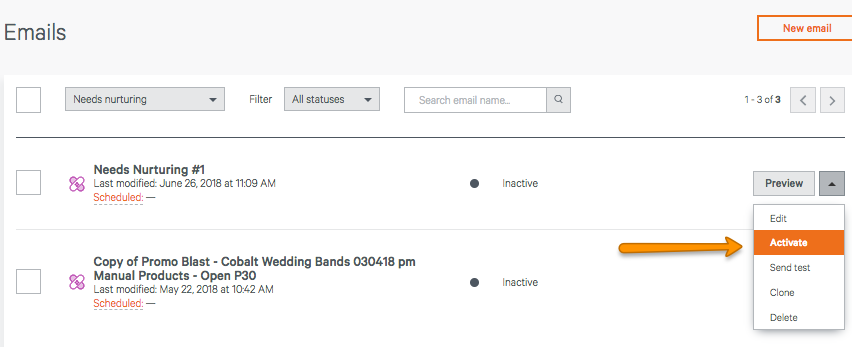 8. Reporting on your new template is found in Insights --> Artificial Intelligence Stats --> Trend Details.